Almulla Logistics WLL, a Bahrain based forwarding company was established on May 01, 1986. Having completed more than30 years in the business , we stand proud of our success and rapid growth in our range of services, turnovers and geographic coverage, establishing ourselves as a reliable, customer oriented forwarder in Bahrain .
As a direct result of our excellence our annual turn over is US $ 8 million (Bahraini Dinar 3 million), with a monthly freight turnover is excess of 250 tones by Air and 200 TEUS by Sea freight.
With Freight Forwarding as our core activity, we have diversified into Logis-tics & Distributions, Shipping Agency, Removals, and Trans border services. Committed to quality, we have been relentlessly pursuing our cause for en-hancement to services offered so as to be able to render better solutions.
Almulla Logistics is official appointed agent of IATA (international Air Trans-portation Association), FIATA (The international of Freight Forwarders Asso-ciation ) and conduct business strictly according to standard trading activi-ties.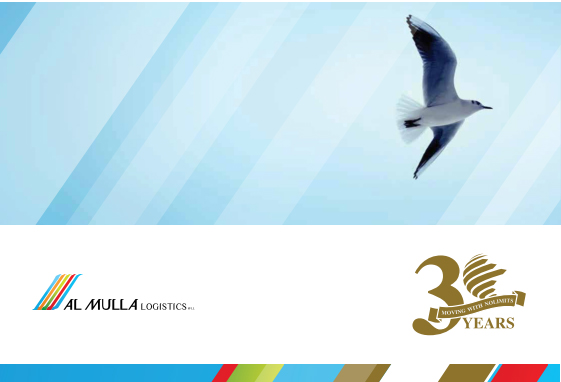 Brochure 2018
Links
As acting Agents, we have firm ties with all major reputed Airlines and Shipping Lines servicing the Air and Seaport of Bahrain. We are also associated with global leaders in the freight Forwarding and logistics industry and have representation in Bahrain for reputed multinational freight forwarding network companies, who have a remarkable worldwide network of 500 or more offices in over 125 countries.
Al Mulla Logistics has proudly served as General Sales Agent (GSA) for Turkish Airlines for over 10 years and Etihad Cargo since 2016.
Almulla Logistics WLL has been a successful recipient of numerous prestigious Awards from various Airlines and shipping Carriers for Excellence in Freight Tonnage and Freight Turnover.
Almulla Logistics boasts of being a record holder for handling the single largest shipment to be handled by Bahrain Airport- forty-seven tones ex Bahrain Los Angeles for Wal-Mart.
Strategy
We, at Almulla Logistics, meet the changing needs of industry and work in partnership with our customers to create flexible, innovate and quality solutions for their international transportation and distribution needs. We have successfully and extensively networked ourselves so as to able to meet all service demands.
We continue to invite in the quality of our activity with both international and external efficiency and market orientation. Almulla Logistics is only as strong as its team we invest in People training and motivation to service the customers.
Mission
We, at Almulla Logistics recognize and value the uniqueness of every client's individual requirements
Honour our commitment
Approach our business with professionalism, dedication and integrity
Aim to give our clients Quality Service in the most efficient and cost effective manner
Ensure quick turnaround, reliability and access 24 hours/7 days/week
Fleet
Almulla Logistics owns a fleet of 35 (thirty-five) vehicles including trucks and pick-ups, which enables us to attend to customs request at any given time and guarantees our assurance to our valued Clients for a quick turnaround and on time deliveries.